Applied Direct Services Corporation (ADSC) Powerful market driven programs that can supercharge and enable the sell cycles of serious High Technology Groups: SwiftSel Communications Services And Technologies -Our Focus:
We're like a Bus Dev Super Store.
Specialists in B-2-B Complex Sales Process Optimization Services
"You Can Compress Your Sell Cycle And Get Down Cycle Fast"
Illuminate & Enliven Your Markets Worldwide.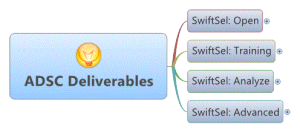 ADSC can help you to better discover, leverage and supercharge your complex hyper competitive markets,and High Technology sell cycle offline, online and more deeply.
Enterprise Grade Lead Demand Generation Services – That can help you to get to decision makers, get them interested & qualify if they might have a serious chance of being your customer.

Home Of The SwiftSel Methodologies – Proven advanced field-tested/field-hardened methodology driven capabilities that can better enliven your markets, directly.
Online Marketing Technologies – That can help you to sell & even marketing automation to help you to more efficiently drive your sell cycle.

ADSC Lighthouse Software a Product by
Applied Direct Services Corporation
Business Process Management Software – with an AI core whose knowledge engines can help to make your sales process and your business more efficient.
Dynamic Natural Language For HTML 5 – This is a natural language capability on the Web that can be used like a consultant on the Web.
Powerful Rule Based Content – You can easily let our Knowledge Engines help your team and your customers in your sell cycle and generally in your business with:

Intelligent Document Completion.
Online Training & Testing.
Advisory Systems.
Smart Communication Where Ever You Need It Globally.

We needed a knowledge engine to embed & imitate the strong knowledge & experience of ADSC. So, we created one.

Scriptcase Partner For Canada – We are the Scriptcase Partner For Canada.
Powerful Easy Enablement – Scriptcase is used in over 140 countries globally by thousands of users & is growing by 40% per annum.

Access Your Corporate Data – Anywhere Securely
Enterprise Knowledge Enrichment – You can easily turn your corporate knowledge assets in your Enterprise Databases into powerful Business Intelligence & full-scale Web Applications. Including databases like Postgres, MySQL, Oracle, DB2, Informix, Sybase & Others.
Facilitated Development – Or let us help you to make that happen. We have access to some of the most skilled Scriptcase Developers in the world.
Powerful Analytics – You can power your  understanding of your markets and your business with Scriptcase, and your users can even rearrange their understanding of your knowledge assets after that – visually.
Can Actually Work With ADSC Lighthouse – You can embed Scriptcase  and  you can use our powerful Knowledge Engines to help advance your business.
Mautic Marketing Automation

The World's First Open Source Marketing Automation – Pay for implementation, Support and Training not licensing.
Accessible Cost And Resulting Value  – Accessible pricing for businesses large & small.
No Customer Limits – On the number of your customers that you serve.
Integration Without Limits – An open package with our powerful integration capabilities. And we can integrate with other existing technologies in your Enterprise.
Advance Your Sell Cycle – Don't just start your sell cycle with us. You can nourish and enhance it throughout again and again, easily.
Powerful  – Useful and affordable & open Marketing Automation through Mautic.
Drive Your Markets – Mautic can help to drive your sell cycle

SwiftSel Market Testing & Analysis – Potent Market realignment capabilities.

Marketing Plan Analysis & Assessment – Don't just create your Marketing Plan in a vaccuum.
Beyond Just Opinions – And don't just take our word for it.
Tests With Actual Decision Makers – Like a forward seeking quality circle that can be both qualitative & quantitative all at the same time.
The Market Can Be The Best Teacher – If you have a group that can overcome the complexities of learning those lessons with you.

Online, Offline & Other Sales Enablement – You can get strong help in solving the problems of dealing with complex hyper-competitive markets.
Our Markets Pure specialized B to B oriented, advisory & technology-based:
Complex products/services for complex sales & marketing processes.

We provide services to the High Technology Industry, Professional Services & other aligned industries with complex hyper-competitiveand demanding sales marketing processes.
Our SwiftSel Methodologies Capabilities
What are the SwiftSel Methodologies?
A proven set of field hardened, field tested methodologies that have been successfully implemented from small groups to Fortune 500's to better enable more predictably achievable ROI results in complex sales & marketing processes.
© Copyright 2004 – 2016, Applied Direct Services Corporation, All world rights reserved. All offerings made on an as available, first come first served, basis.